YOUR ROAD TO FREEDOM BEGINS HERE.
Welcome to the page and to our therapy practice. Whether you are actively seeking out a therapist, or have stumbled upon us, I hope you stay a while and get to know who we are and how solution-focused, quality psychotherapy can improve your relationship with self and with others, as well as enhance quality of life. You'll find that this page, like our practice, speaks to you as an individual. The spirit of the practice is that of client-centered, tailored treatment. You will never be "just a number" here. You matter, and you matter to us. The first step when seeking help for a problem is the hardest- and you've taken it. I hope to meet you in person soon. -Mary Dobson, LMFT, CEDS, Founder of Woodlands Psychotherapy Group, Easton, CT
The below will give you a better sense of how we conceptualize people and the problems we face. The 'About' page details more about Mary Dobson, her background, her credentials and our psychotherapy services.
As a private practice psychotherapist and founder of Woodlands, I seek to empower my clients to define and claim the lives they were meant to live. This means starting off by getting clear about your hopes and dreams. I will meet you where you are, and together, we'll harness your strengths and draw a line of intention and action between your current reality and your ideal future state.

How badly do you want to address your compulsive eating? To what length would you go to save your marriage? What would it feel like to finally be free of your self defeating thoughts? I will encourage you to paint a picture of your dream life, and serve as a gentle coach and faithful, trusted advocate as you draw yourself into that portrait.

The results are in- therapy works. Talk therapy helps people learn about themselves in a deep and broad way, so a new self understanding can be utilized in a variety of situations. In therapy, clients develop the ability to continue discovering about themselves, even after therapy has been discontinued!

Good therapy ultimately comes down to a relationship of trust. In order for treatment to be effective, a genuine connection between client and provider must exist as a cornerstone. It's wise to "try a therapist on" to get a sense of whether they are a good fit for you. I offer a 30-minute phone consult and for this purpose.
---
Powered by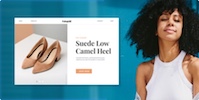 Create your own unique website with customizable templates.